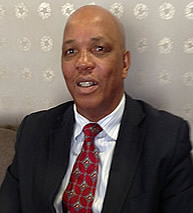 Shortly after opening the Nkqubela Tuberculosis (TB) Hospital's new XDR-TB Unit which accommodates 60 patients (30 males and 30 females), the Eastern Cape Government began a process of relocating patients from the nearby Fort Grey TB Hospital to Nkqubela TB Hospital.
The Nkqubela Hospital was opened on Friday the 20th November 2015 and the last group of patients were relocated to it on the 18 March 2016. The Superintendent General for Eastern Cape Department of Health (ECDoH), Dr Thobile Mbegashe said the move is informed by the need to fully cater for MDR and XDR-TB patient's needs and meet compliance regulations and that "the upgrade could not be done at Fort Grey as the structure does not belong to the Department".
One of the patients who were moved from Fort Grey TB Hospital, Mr Mongezi Nombeko from Ziphunzana Township was very excited about the relocation, praising the new facility that it is beautiful, clean and spacious. "We are now able to sit in this beautiful lounge and watch TV while having our lunch", he said. Meanwhile, Mr Ludwe Ngwevela, a cured TB patient from Nkqubela recalled that when he was first told that he had TB he was in denial and as such refused to take treatment. "I was more worried about what people were going to think of me especially when I had to be admitted at Nkqubela TB Hospital, said Mr Ngwevela. After talking to some of the healthcare givers and patients who were cured, I realised that being diagnosed with TB is not the end of the world and that TB is curable if I take my treatment regularly and as required, added Mr Ngwevela.
The Department spent R14 million in upgrading the now state of the art equipped Nkqubela TB Hospital. The newly upgraded hospital is now a single 320 bedded facility for Multi Drug Resistant TB, Extremely Drug Resistant TB and Drug susceptible TB. The new unit has a lounge fitted area with mechanical ventilations where patients can watch TV.
The ECDoH MEC, Dr Pumza Dyantyi praised the progress in addressing TB, HIV and STI's in the Province but also conceded that ignorance and discrimination still exists, fuelling the continued infection. Dr Dyantyi also informed those in attendance that government has set target of testing 1.3 million citizens for TB and HIV by September 2016. Dr Dyantyi added that farm and mine workers and those from informal settlements were the priority groups targeted by government. TB is dangerous and contagious, it has killed a lot of people throughout South Africa but the good news is it is completely curable, said Dr Dyantyi. The plan is to regularly test so that people can be introduced to treatment as soon as possible, concluded Dyantyi.
Other initiatives undertaken by the province include decentralising multi-drug resistant TB (MDR-TB) management and care to the districts. Currently, the province has about 20 decentralised sites. This model addresses a lot of problems associated with hospitalising MDR TB patients including shortage beds, delays in initiating treatment, high transmission of MDR/XDR TB at health facilities and lack of social support as patients get isolated from their families during treatment.
Linked to the decentralisation process, the Department also trained the health officials in the respective districts whilst upgrading the facilities's capacity to be able to fully manage MDR-TB. Naturally, decentralising MDR-TB management demands that health care workers be adequately equipped to monitor and manage drug administration and infection control amongst workers and the general populace amongst others, says Ms Nokuthula Sopiseka, ECDoH Director: TB Management.
The Province has also introduced linezolid and bedaquiline treatments and as the result more MDR-TB and XDR-TB patients are getting better much faster. In February 2016, the Province had the highest number of patients with access to or using this treatment regime. This treatment has significantly reduced deaths and patients are now converting in less than six months as opposed to the typical 24 months.
There has also been full integration of the TB program in the Province with the Eastern Cape AIDS Council (ECAC) brought on board to manage integration among others and as the result ECAC is now championing the World TB Day in the Province. The Department has also adopted a multi-sectorial approach including outreaches wherein various sectors of society including House of Traditional Leaders, Community Based Organisation, Church Formations, sister Departments and the People Living with HIV Sector are engaged and trained to assist with awareness and advocacy. The 90 90 90 targets have also been fully embraced by the Department and in this way making sure that active steps are taken to screen as many people as possible with the purpose of giving access to treatment early.
All of these have gone a long way in helping us progress towards achieving some of our objectives including reducing discrimination, increasing life expectancy and reducing death rate, adds Ms Sopisela.
The efforts of the province are informed by the National Strategic Plan's vision; that of zero new HIV and TB infections, zero new infections due to vertical transmission, zero deaths associated with HIV and TB and zero discrimination associated with HIV and TB. They are also guided by the provincial HIV/AIDS, STIs and TB Response strategy which has four strategic objectives, and these are:
Prevention of HIV, STIs and TB

Sustaining health and wellness

Protection of human rights
•
Reducing structural vulnerability